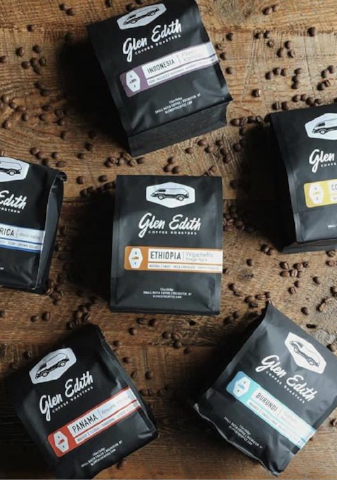 Interested in getting something different with each delivery? Choose this option! We will rotate our whole bean 12oz bags of coffee for you and ship directly to your home or office.
Step 1:  Enter how many bags of coffee you'd like with each delivery.
Example: For 3 bags of coffee per delivery, change the Quantity to "3"
Step 2:  Choose how often you'd like to receive your deliveries.
Example: To receive your coffee once every 2 months, find the dropdown tab next to "Deliver every" and select "2."  Then select "Month(s)" from the following dropdown tab.
Step 3: When you check out, select "Roaster's Choice Subscription Only" for your shipping method.


Step 4:  Keep an eye on your mailbox and enjoy your beans!!
When you need a break, just log in to your glenedithcoffee account and select "pause" or "cancel."  Even easier, drop us a line at pearsonscoffeeordering@gmail.com letting us know to pause or cancel your account and we will take care of you on our end.
We roast on Thursdays and ship Thursdays and Fridays.  Our goal is to ship you the freshest coffee possible.